Okay, so I admit it. One of my favorite things about making costumes is making the insane ones, the ones that people look at in the manga and go 'no way anyone can make that.' I also love doing costumes that no one else is doing, at least not in large quantities. And I love ruffles, bows, ribbon, all that jazz. Plus, I have at least 30 costumes worth of experience plus many other random clothing items, with just about any fabric/cut/technique you can think of, and draft my own patterns.
Right now, though, I have a bit of a problem. I am currently living without a sewing machine, but with access to any sort of fabric/ribbon/lace/notion etc. that I could ever want. Therefore, since I have to hand-sew the darn thing anyway, I figure that I'll just try to do the hardest costume possible. Why? Um, well, because I can. And where am I doing it from? Pft, the origin of all things lacy and difficult, CLAMP's "Chobits."
Here are the costumes from the anime/manga/art book I have found that I find to be beautiful/difficult/not cliched. There are definitely a few not on this list that I like, but they're generally ones often done, and I'm just not willing to do one that's been done so often. Call me a snoot, but I like to give some attention to the other equally gorgeous outfits that I have to choose from! Or I just forgot to put them in--hey, it happens.
So, which one would you be most impressed by? Which one is your favorite? Do you have any other pretty/semi-insane costumes from Chobits or other animes to suggest? I am open to most anything, so long as it is beautiful and difficult. Low cut, showing skin--doesn't matter, as I have approximately Chi's figure (though I am not 12, admittedly, and my body does obey the laws of physics.)
Thanks for your opinion ahead of time! I really want to know what you think.
1.
Okay, I just love this one. It's pretty, and it's one I've never seen done before, even on the internet, probably just because it's rather obscure. It has gorgeous detail and definitely some tricky physics going on.
2.
Looks simple, right? No way. Talk about your funny physics, plus making those butterfly tail things without letting them either a) drag on the ground or b) look stupid. Yeesh. Not to mention making it look delicate and adorable...and still stay on even with that open back.
3.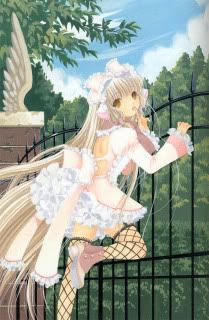 This is so cute, though about as obscure as they come. I love the psuedo-military feel to the sleeves of the coat, and the back is really intriuging (plus could hide a bra-strap.) It's just a cute outfit and looks comfortable to boot, though those ruffles wouldn't be a picnic.
4.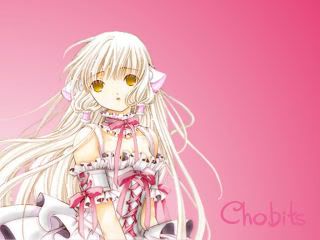 Has anyone seen the bottom to this? I haven't been able to find it. At any rate, it's a clasic CLAMP dropped-collar with adorable details and what I'll bet is a giant, poofy skirt. Cute stuff.
5.
I've had a thing for empire waists lately, and this is just so cute! I would also have to make/paint/embellish a parasol, which would be really interesting. And I love the sleeves. Not very physically impossible, but it would look adorable.
6.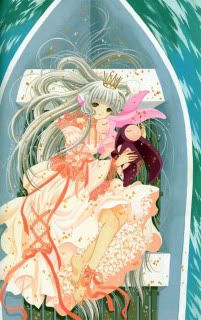 Crazy dress alert! This has a lot of difficult elements, like the lacing on the side of the skirt. The sleeves are gorgous, though. Heck, the whole thing is. Has anyone ever seen this one done?
7.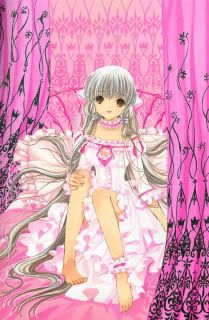 Classic CLAMP cuteness. You know the spiel.
8.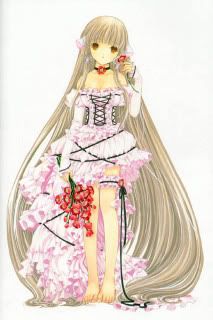 Okay, I know this is a often-done costume. But it is also a usually /badly/ done costume. Not always, but chances are it will be, just because this thing is completely insane in its physics. However, it my just be the best costume here for hand-sewing, simply because it probably can't be easily properly done any other way. And did I mention that it's ridiculously gorgeous?
9.
Yeah, yeah, this one's done a lot too, but I love the corset material and find this to be just so pretty. Though this one usually is well done, simply becuase no one but a good costumer will go near it XD Darn those corsets!
10.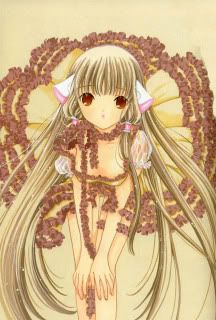 Can you say 'obscure?' So cute, though, and I love that it's a circle skirt and that I'd have free reign on the bodice. However, not that horrible difficult. But adorable, and could probably be used as a lolita outfit besides (go ero!)
11.
This. Coat. Is. Gorgeous. Seriously. The cut is lovely, and the military details are just lovely. It would need lining (pain) but it is so cute! Coats are always challenging, too, regardless.
12.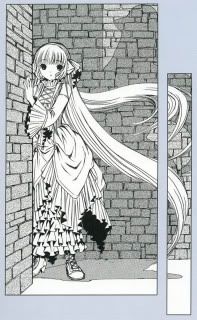 Complete obscurity. Has a very different feel than the rest of these costumes, almost...Spanish victorian? I don't know but I like it; then again it has the added horror of being so different than the other dresses that no one recognizes it. Eek!
13.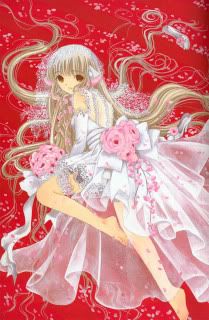 It's poofy in a very 80's way. Um, I really love bustles. But I don't know quite how I feel about this dress.
14.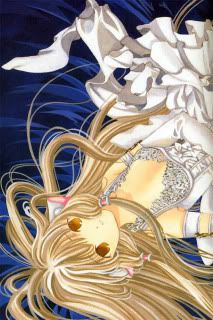 So I admittedly have made this dress before, only it was right when I started making costumes, and it really isn't my favorite costume I've made, and I would make it completely differently this time (and not pink.) This is really obscure, as most people to the pink anime version like I did (and by everyone I mean approx two people) and very pretty. However, I do know that it is a pain and a half. But gorgeous.
So, these are my choices so far and I have no idea which one I want to do! Please help me decide. Thank you in advance for your help!
-Steph