We have made lots of swords and staves before. This time, let's make a set of armor.
Show the origrinal picture first.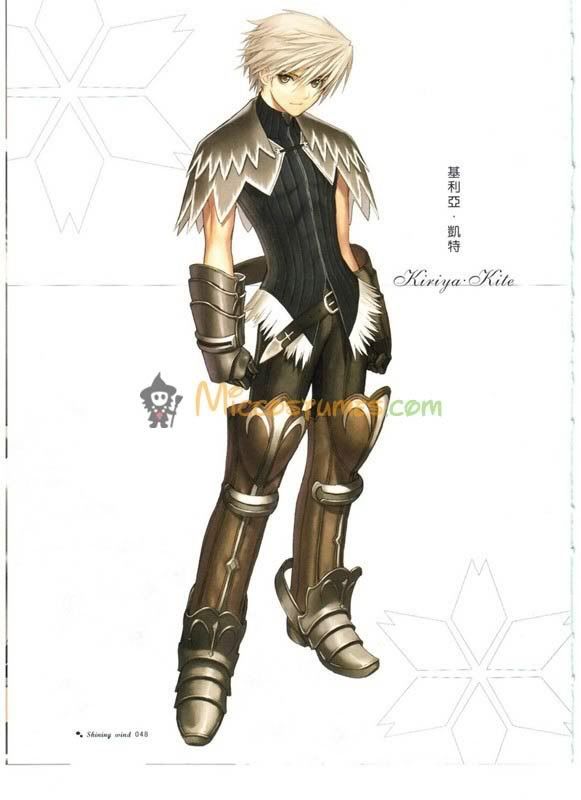 Style for the hero in Shining Wind is not intricate, except the cloth gown. Now, let's make the armor first.
Required making materials:
Thick EVA boards in both 3 mm and 5 mm, electric iron and hot melt.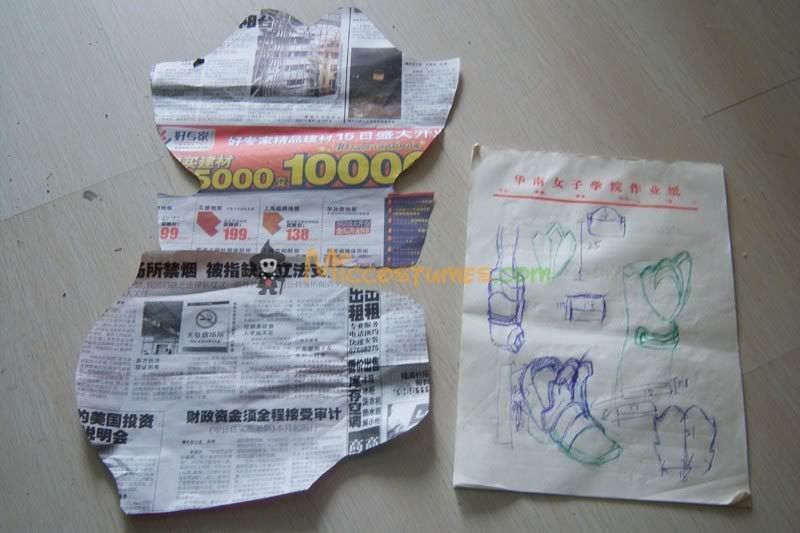 First, take a measurement and patten. I made a rough sketch on paper and got a conclusion: only three parts need pattening, covering the forepart of arms, baffles before ankles and knees. Plate cuts in above picture are upper parts of arms and the big baffle before ankles.
Other components are almost simple squares, only requiring clipping after being measured. Then, we do not have to prepare the paper matrix purposely.
Once the paper matrix is ready, we can clip EVA board. Just as above words imply, except those three big units, all other parts are squares in various shapes. We only need to take a rough measurement before clipping directly.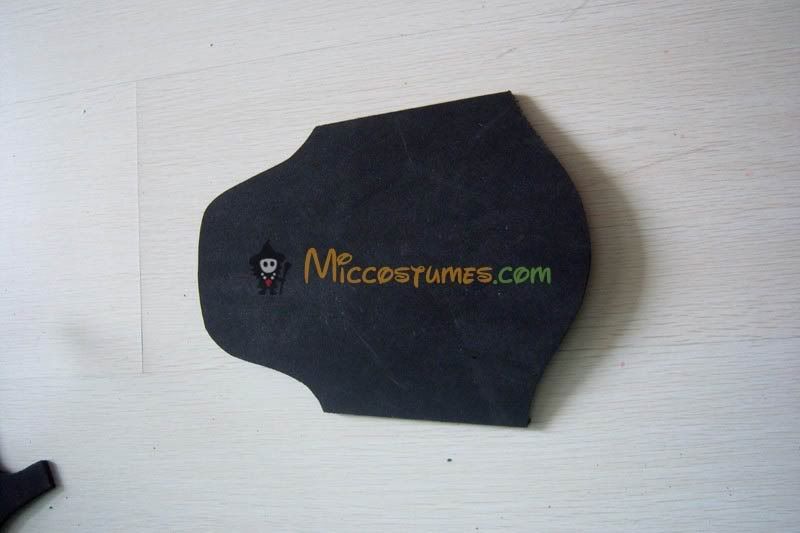 EVA is just a piece of flat board after being clipped. With some processing, it will become elements we require.
Begin from the hand armor. Curve it.
The commonest method to dispose EVA is hot working. EVA will become rather soft and pliable while being heated to a certain extent. It will keep the processed shape after cooling.
Electric iron can be used while heating up. Also, it's okay to use fire directly. But it's much more difficult to control the fire, which always causes an uneven heating on a large area. Furthermore, fire may directly burn up or scorch the board. So, use electric iron please.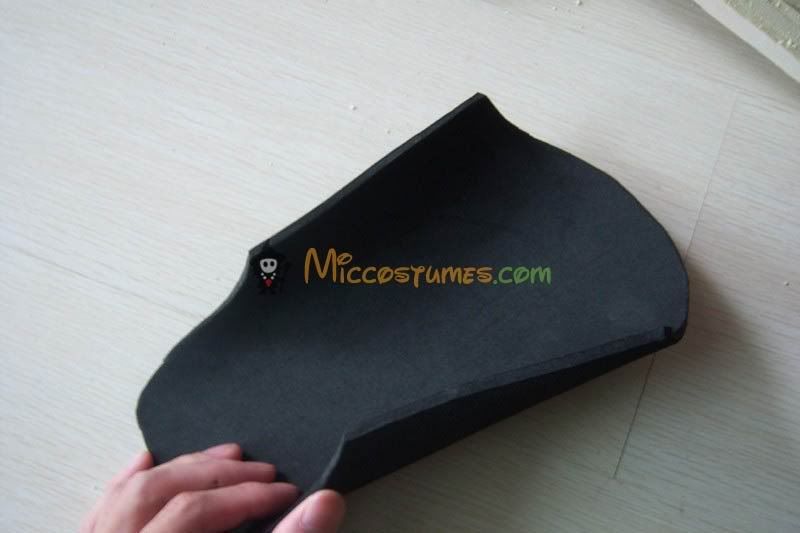 Okay, let's curve the heated material and keep that shape until cooling. If the finalized result is non-ideal, continue heating and make amendments directly.
Pay attention here: there is a limit for EVA's adaptive capacity on heat. It can be heated and altered after cooling repeatedly in the allowable temperature range. Moreover, originally ideal elasticity is still kept on the molded material. However, when the temperature reaches or exceeds its enduring extremity, cooled material will sizing and become hard, allowing no alteration then. But correspondingly, an appropriate temperature enables it to keep the molded shape enduringly and steadily. Anyway, this depends on your own favor. But for me, I don't think it's necessary to over heat because we will need reduplicative alterations most of time. Go over heating the board unless your required shape is too intricate and does not allow any deformation after sizing.
Okay, finalizing the design is completed.
Make other parts in the same way.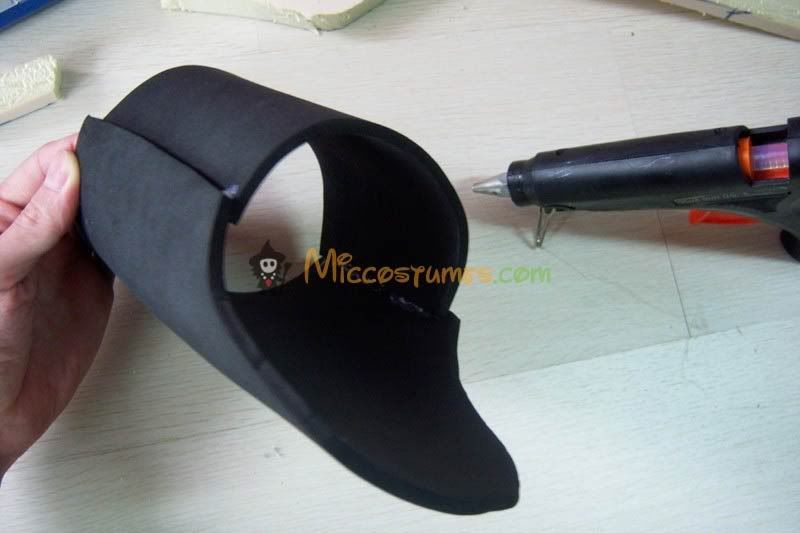 Splice curved elements by hot melt glue.
There are three parts in all.
Harness three parts together one by one. It's wise to insert the first tier into the second layer after splicing. This avoids measurement error caused while splicing, which prevents you from nesting one level after another. Splice layer-by-layer upwards. This will ensure higher precision.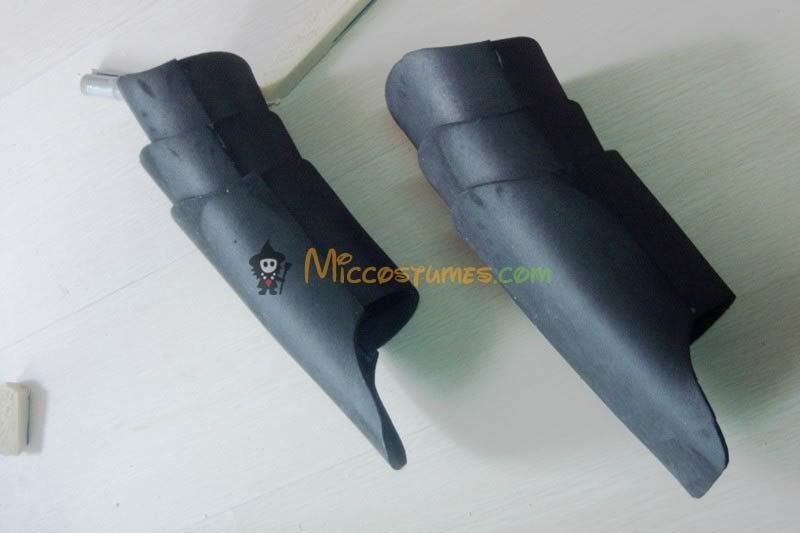 Make another hand armor in the same way. Then, main bodies for both hands are finished.
Now, focus on frame tracery on the armor. Cut EVA into lathy stripes.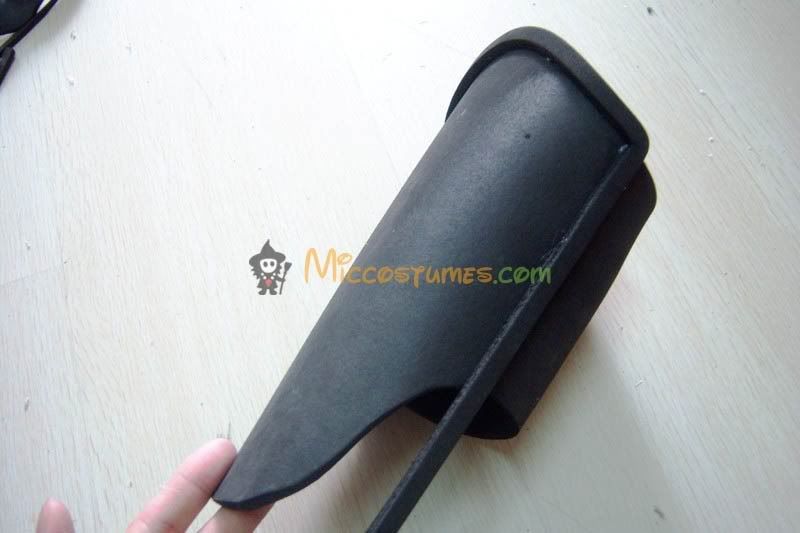 Adhere edges by hot melt glue. Curve stripes on corners.
Then, the whole hand armor is completed. Traceries on other parts can be made in the same way.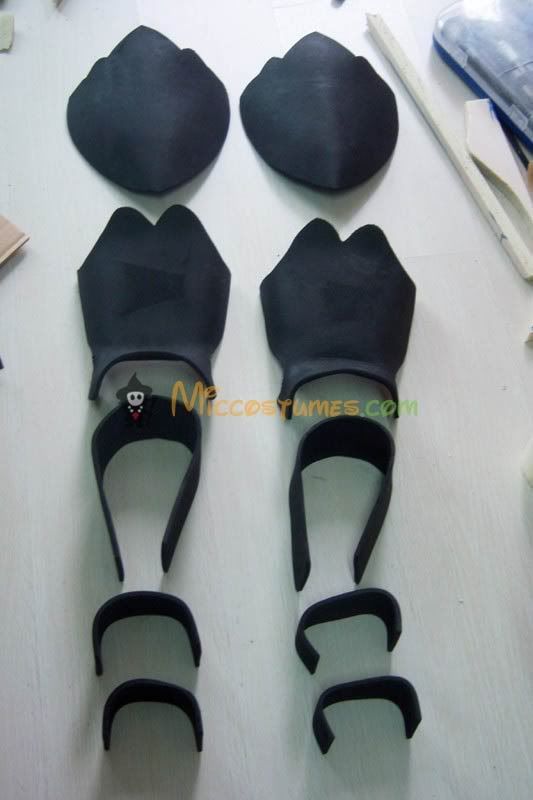 The same principle can be applied while crafting elements on feet. Heat and reshape. The big baffles around ankles are more intricate. You can heat repeatedly and process slowly. After all, plasticity on EVA is incredibly fabulous.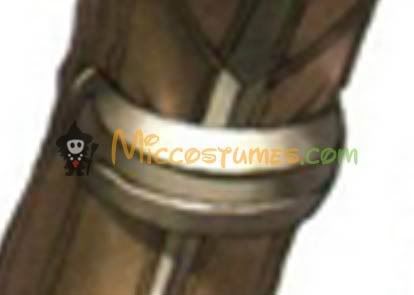 Do not forget the section before the calf.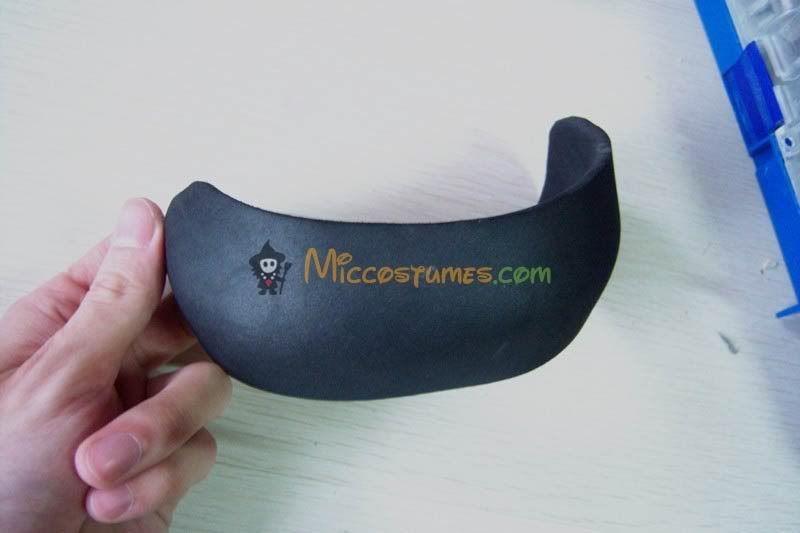 Cut a required EVA board. Heat it and make it curve. This layer is the baseboard.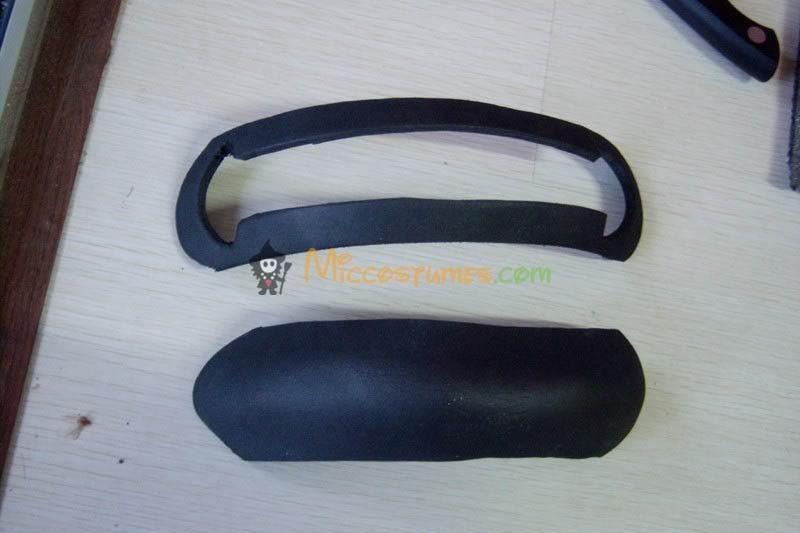 Then, the second layer should be a little longer than the baseboard. The middle part should be hollowed out like above picture.
Finally, stick both layers together.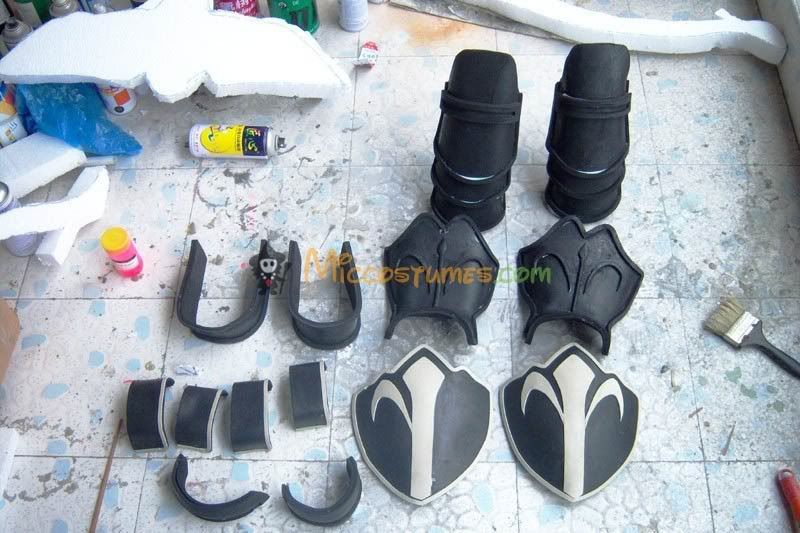 Large parts of elements have been finished. Brush white latex on the surface. Color when the latex becomes dry. Tracery is made by the same way mentioned above.
White tracery is made from EVA in 3mm because a light-colored pattern on knees and feet will look better. Remember to use mighty bond while sticking thinner EVA. It will be much better than hot melt glue.
You see from above picture, one of the knee armors lack a string. Okay, it does not matter. I will add one when latex becomes dry.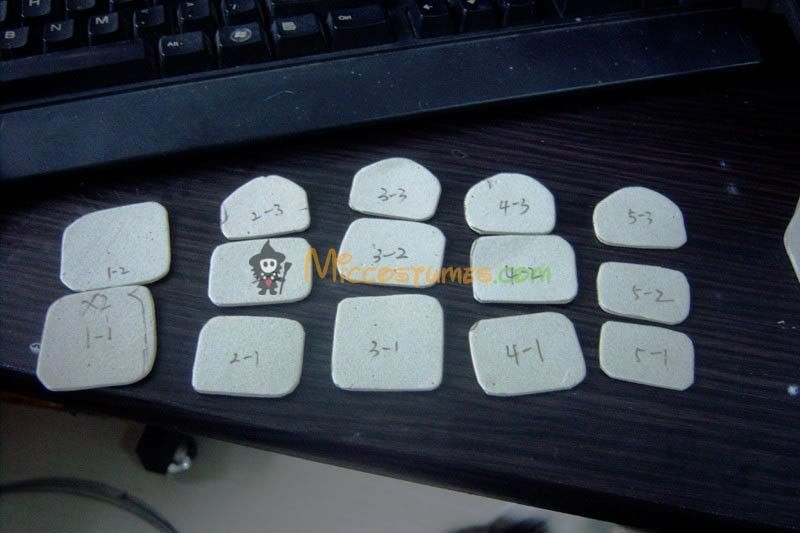 Let's make the gloves before latex dries. Clip plate cut for each joint from EVA in 3mm.
Curve them like before. (you will find 80% of the entire work is curving.)
It's really exaggerating and troublesome to use the electric iron to make such a small element. Use lighter directly. Roast it. Seconds are enough. Do not roast it too long.
It's okay to buy a cheap black pair of gloves on the market. Stick all finger joints and the large piece on the back of hand upon.
You can put on the gloves and stick all elements upon. But this will be terrible because you may get burned continuously. So, put the gloves on a flat board and attach all parts please. The biggest defect in this way should be that the gloves may be less fitting.