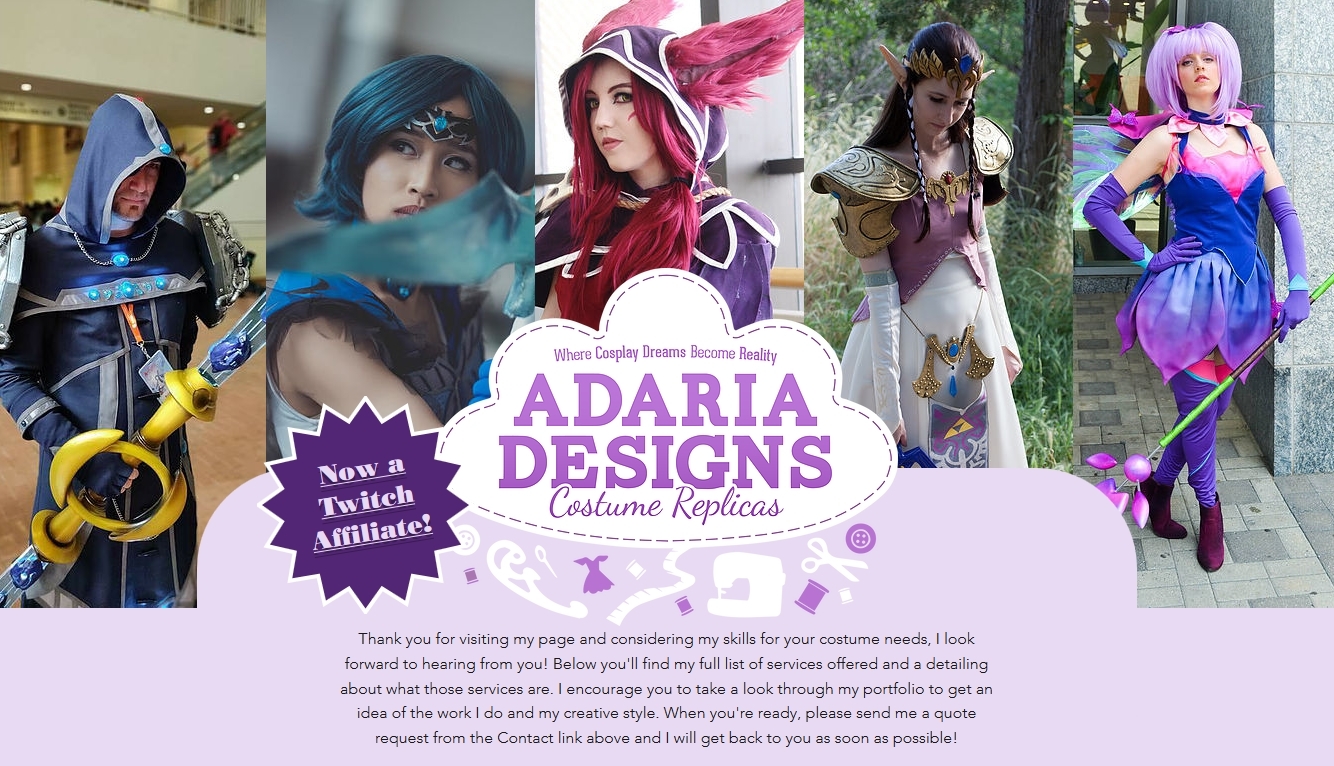 Hello, and thank you for viewing my commissions page! My name is Caitlin, also known as Adaria. I have been sewing for nearly twenty years and I am professionally trained as a costume designer and costume craftswoman from High Point University. I graduated in December 2012 with my degree in Technical Theatre, a focus in Costume Construction, and since then have run my own business! In January I celebrated five years in business!
It is currently best to contact me via my website; www.adaria-designs.com You will reach me fastest using the quote form on my site!
Please note that contacting me directly without the information I require as listed on
www.adaria-designs.com
will otherwise ensure you do not get a reply.
>>>>>>>Also, DO NOT send a request here on cosplay.com, it will not be responded to. I'm sorry for the inconvenience.<<<<<<<<<
Why Choose Adaria Designs Costume Replicas?
I have
15 years experience
in crafting, sewing, and creating! I am a cosplayer myself and I understand deeply the needs of the client from extra pockets to breathable, comfortable materials.
This is my career
. This is my full-time, no vacation, six-days-a-week job. I have no distractions because this is what I do every day with all of my heart and soul. I work on a single client's project at a time to ensure I don't miss a thing.
I am dedicated to the craft.
I consider myself an artisan
. The finite details are what really drives home the look and I don't want to skip them.
Your project is truly
one-of-a-kind
. I may have made the same costume five times but they will all come out a little bit differently. Each fits their wearer just right and is made from scratch every time. Some say I waste time by not reusing patterns but I believe this ensures you are getting something uniquely yours.
My patterns are
made from the ground up
with love, blood, sweat, and tears, drafted on a mannequin adjusted and formed to your size. I do not use commercial patterns often and if so it is only to confirm the shape is correct. Like the seat of pants. Those are important!
You are part of the materials selection process!
YES! You! As a part of my process, once we have agreed to proceed together, you will receive a very special "Materials Breakdown" with suggested fabrics, trims, notions, etc. On average each selection where applicable has 3 of the best materials I have found for you to select. I pride myself on not only giving the client an opinion in the process but also being able to see their choices and have a swatch sent to them in the mail to feel. It's not a quick and easy process, these often can take me 5 hours and are not accounted for in labor. Simply, it is something I do because I love what I do and I want the client to love their costume!
All clients are given a
payment plan
. I realize as an artisan craftswoman I have artisan prices. To make it easier to get the costume of your dreams paid for I offer payment plans to every client unless they request otherwise. I'm glad to work with you to make a flexible plan that suits both of our needs!
You will receive regular,
photographic updates
throughout the building process. Not only is this proof of the project in the works, to put you at ease, but you can also have the opportunity to make changes if there is something you're not quite happy with.
I offer
LIVE STREAMING
services! I am now a Twitch Affiliate! You can tune in to see your project being made in REAL TIME and I will let you know at the start of your project when you can see me work.
I am
transparent
. As you can see by the points above: I don't feel the need to hide anything. If I've made a mistake or something has gone wrong you will not only be informed but I will suffer the cost to right my error. I am not here to scam you. I am here to make the costume of your dreams.
I stand by my product 100%
. If it does not fit, or becomes damaged during wear, or perhaps you've changed sizes, I'm happy to do my best to fix the issue. Under most situations, this is a free labor service. Depending on the damage or problem, there may be a materials fee if materials must be purchased. By example, you're out at a convention and someone accidentally spilled a bottle of cola down the front of your beautiful pink Princess Aurora gown and the stain just wouldn't come out. I'm glad to rework any panels and replace them, but we may need to purchase more materials to do so. Clients are also responsible for cost of shipping to return the project to me, and then to receive it once more.
Return clients receive special presents and discounts
. I love you guys. You make my business go around and around. I need you! I can't keep the lights on without you. These presents and discounts may be small but it is how I feel I can best show you my appreciate and thanks for having hired me time and time again!
www.adaria-designs.com
www.facebook.com/AdariaDesignsCosplay/
www.instagram.com/adaria.designs/
www.twitch.tv/adariadesigns