Posts: 4
Joined: Wed Nov 24, 2004 7:57 pm
Location: Washington State
Contact: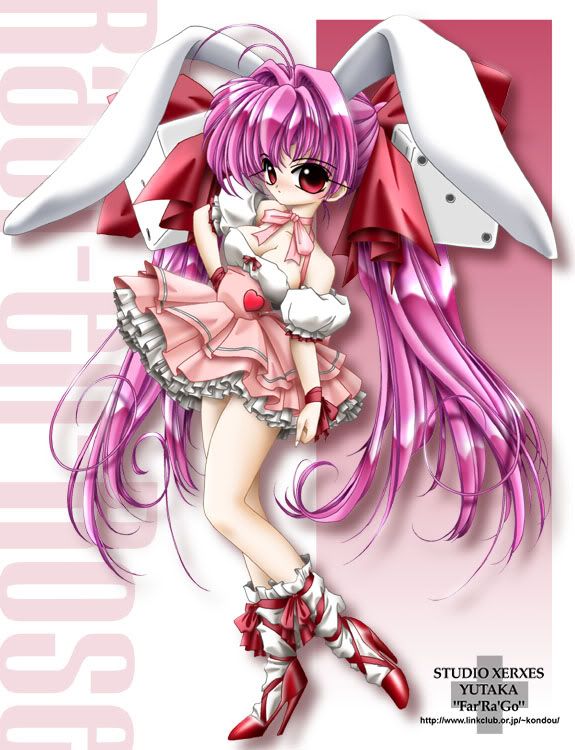 so yup thats it, any idea. for the shoes iwas thiniking leg warmes, red heels and ribbon. any othe advice?[/list]
---
Posts: 785
Joined: Fri Nov 07, 2003 2:50 pm
Contact:
no leap in logic is too extreme... for RAGE!
---
Posts: 215
Joined: Tue Jul 27, 2004 2:27 pm
Location: Tampa, FL
Welll, just talking about the hardware for a moment:

The dice. Foam dice seem to be the best bet, but a solid object that size, even of foam, is going to start hurting after a while. Try making them out of 1 inch foam over a hollow cube made out of whatever's handy, balsa wood, cardboard, whatever, then cover the thing in fabric.

The ears: Well, the easiest way to do them is 24-guage wire (coathangers). If you need longer wire, the same size is used to hold up "floating" celings. Home Depot should have it.

Do a bounce check before you out in public. Wear it around the house for a few hours, jump up and down, sit, stand, walk, get far enough out of it to go to the bathroom, ect. If anything is going to fall off or out, it's a good idea to find that out in the privacy of your home rather than in front of a thousand fanboys. This is actually a good idea for any costume really.
Real men
sew!
Tigerye Productions:
Props, weapons, and much more. I can do that!
"Ebay is the best bet as they are unfeeling there and cold. " - Hemuloki
---
Rabi! A lot of people have done that. I can see how the ears would be a problem. Try putting a thick yet still bendable wire inside the fabric when making them.
See me at: Kamecon '04 (Feb28, NH) ~ Anime Boston '04 (Apr9-11, MA) ~ PortconMaine '04 (June 17 only, ME) ~ Connecticon '04 (July 18, CT.) ~ Arisia '05 (Jan 16?, MA) ~ Kamecon '05 (Feb, NH) ~ AnimeBoston '05 (May 11-13, MA) ~ PortconMaine '05 (June24-27, ME) ~ Connecticon '05 (July, CT)

|c|o|s|p|L|a|y| is my anti-drug!
---
Get some nice red pumps about half a size too big with a set of home made socks from nice, THIN white fabric. Connect elastic red ribbon if you don't want to be fixing your legs all day. You could just do pretty ribbon, but you'd have to tie it hard, or just sew the ribbon to the top in little white loops and tie it. That would probably be the best way to go.
~Ari
God blesses us all in this world in many different ways!
---