Most Recent Photo

Series

Character

Year Completed:

2012

Construction Difficulty:

Very Difficult

Costume worn at: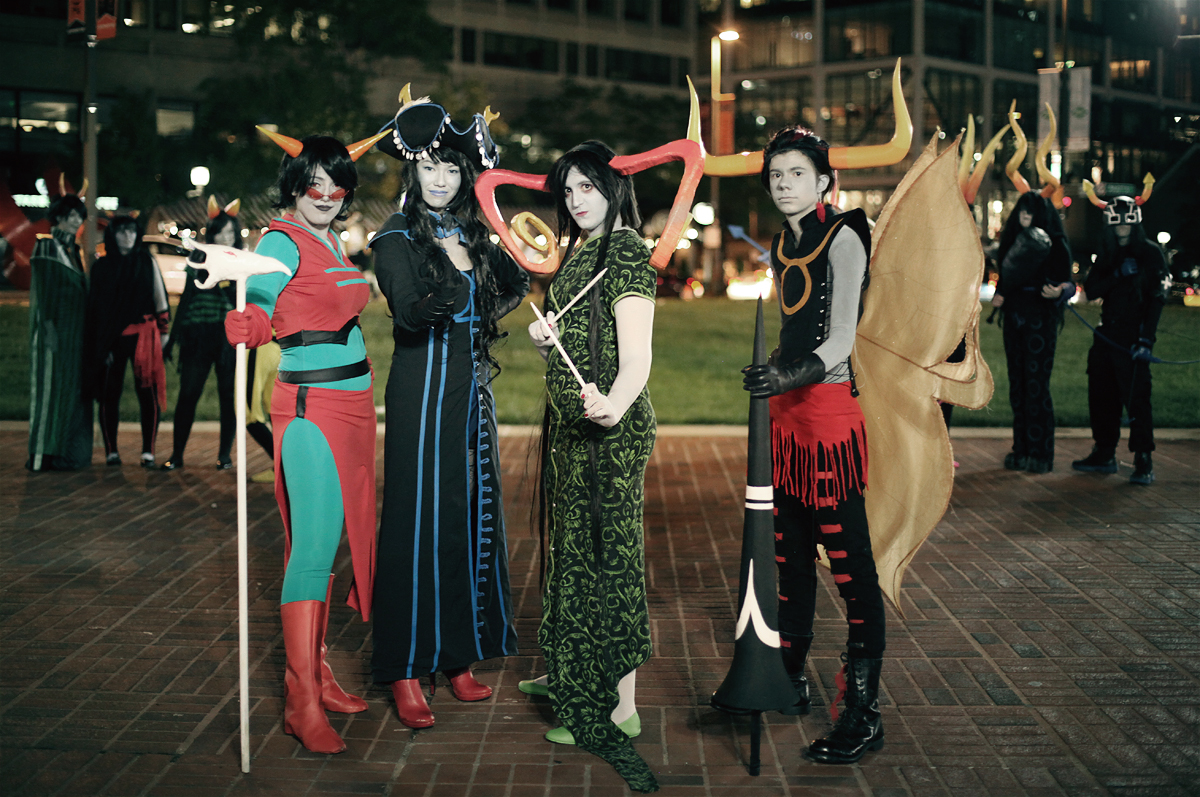 About this Costume
Construction Details:

Redglare was CERTAINLY the largest undertaking I have done to date, involving a lot of techniques and fabric I had never used before, and an awful lot of self-patterning. I want to send out a HUGE thank-you to my Mindfang, Kisa Cosplay, for guiding me through sewing with stretch fabric for the first time! Both the teal and the red are made of semi-shine spandex, crafted by altering an existing legging pattern to my measurements, and cutting up an old t-shirt pattern to be my go-to spandex shirt pattern. I have one v-neck shirt for Redglare and a turtleneck one to use to convert to Terezi, tucked into the PVC waistband. The vest was self-patterned based on a scratch mockup I did, drawing in the Libra glyph and the princess seams over the bust, and the popped collar is seamlessly incorporated with facing and boning to hold it up. I created bias tape out of my teal fabric. The skirt was also self-patterned using my legging pattern as a base. This was my first time making spandex gloves, and it wasn't a perfect attempt (3rd try two nights before the con, it was GOOD ENOUGH to be going on with), but I'm glad they match all the other reds on my costume! The boot covers are of marine vinyl, and were another "first"--I patterned them based on a pair of thrift store boots, pulled them on, and hoped for the best (they self-support, luckily, no glue involved! and they don't slide, YAY). The glasses were sort of interesting, but thanks to a tutorial on Tumblr by Rettozero, I basically found red lenses in the proper shape in a large Mardi Gras mask, popped them out, drilled holes in them with a 1/16" drillpress, and re-attached a nose bridge and ear bars from another pair with pliers and tiny screws. Horns are of Model Magic, painted by me, and attached with snaps through the wefts of my wig to a base worn between my wig cap and the wig itself (thanks again to Steph for this approach!) Pyralspite is a spraypainted broom handle topped with sculpted Model Magic. I wore the official Sufferer necklace from the WhatPumpkin store.





Personal Thoughts:

sdlfkslgsdhlkfgldfsg SO MANY FEELINGS about having cosplayed my favorite female troll AND her ancestor in two separate costume approaches! I loved how awesome Terezi continued to get once she found her old FLARP costume, and finding out how awesome her ancestor is drove me to cosplay both and find ways to change certain elements of ONE costume to achieve two accurate, unique looks. I absolutely love the Scourge Sister interaction both pre- and post-scratch and aldgkshlhdfg 3RRYD4Y 1'M L3G1SL4C3R4T1N.