Most Recent Photo

Series

Character

Special Variation:

Girasama/Final Stage

Year Completed:

2011

Construction Difficulty:

Difficult

Costume worn at: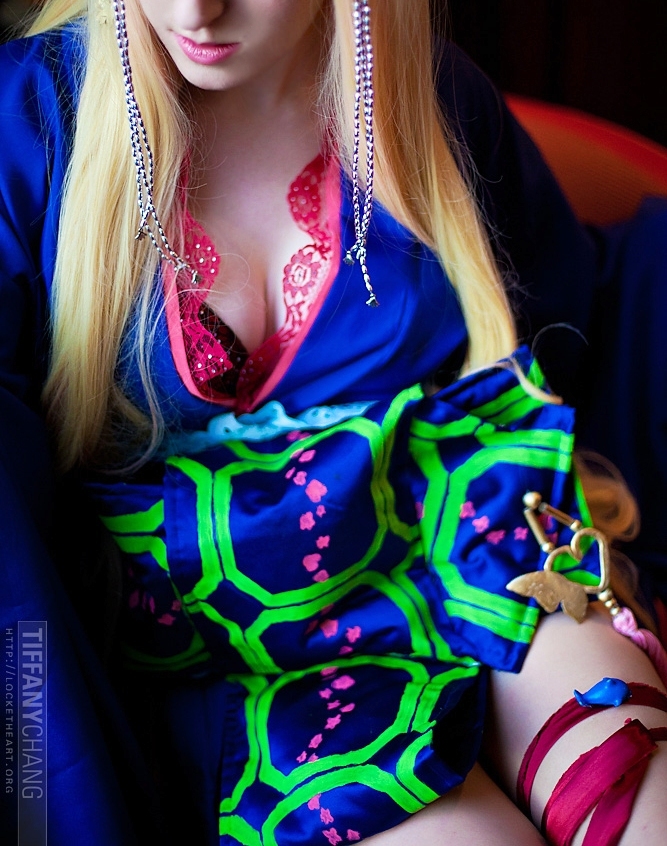 About this Costume
Construction Details:

Kimono was the easiest part of this costume, as I'm sure you can imagine. Obi is hand-painted, and I dyed all the blue lace underneath. My shoes were once a pair of gigantic Demonia goth sandals that made me stand about six feet tall. I ripped the leather and rivets out of them, carved out the bottom, filled it with fiberglass, and sanded down and painted them to match her shoes in the artwork. Hairsticks are 9 pairs of chopsticks from Veggie Heaven and Tina's parents' restaurant. I made the earring and the Galactic Fairy dangly thing from scratch, as well as the giant Chinese knot on the back of her head, which took some research and extra hands to tie correctly. The pipe is made from wood and paper clay. And yes, I bought the VS Miraculous for this, because as much as I love Sheryl you can't deny that she still dresses like a total space hooker.





Personal Thoughts:

This was the design that made me watch Macross Frontier. I'd held off on watching it for years because the majority of the promo art for the show made it seem like a giant tacky animu mess, but for some reason I was really drawn to these designs for Sheryl and Ranka. So I plugged through the series and the two movies and fell in LOVE with Sheryl. The friendship and support these girls share for each other is my favorite thing about the show. So I knew if I did this costume, it would only feel right to have my BFF Pork Buns with me, even if there was no way in hell she would ever be caught dead in a Ranka costume LOL J/K SHE TOTALLY DID AND LOOKS F'ING ADORABLE I LOVE YOU TINAAAAAAAAAAA
Wig Details
Wig Brand

Wig Name

Styling Time

< 24 hours
Styling Notes

There are two wigs in this monster: the base wig is an Ayanamisatoru SeeU wig with the ponytails taken out and highlighted pink. The bun and head fan-thing are all made from parts of my old Sailor Moon wig (also from Ayanamisatoru) that I hacked up. Head fan is foam board painted gold and wrapped in my Moon tails, also highlighted pink. It has a haircomb sewn into the middle for easy on/off removal, which comes in handy for sliding on the heads of unsuspecting drunk friends.